About the Image Permanence Institute (IPI)
Products you might beinterested in: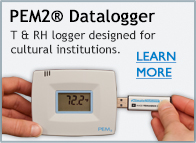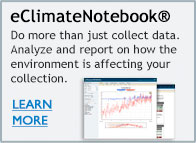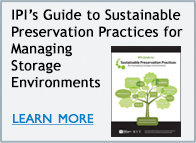 The Image Permanence Institute (IPI) is a university-based nonprofit research laboratory devoted to preservation research and a recognized world leader in the development of sustainable practices for the preservation of images and cultural property. IPI accomplishes this through a balanced program of research, education, products and services that meet the needs of individuals, companies and institutions. IPI was founded in 1985 through the combined efforts and sponsorship of the Rochester Institute of Technology and the Society for Imaging Science and Technology. Funding for IPI's research and educational efforts comes primarily from the National Endowment for the Humanities, the Institute of Museum and Library Services, and the Andrew W. Mellon Foundation.
About the Dew Point Calculator
The Dew Point Calculator was created by IPI. It is designed to calculate and visually present the relationship between temperature, relative humidity and dew point. These calculations are used to evaluate the preservation quality of the environment based on four types of material decay—natural aging or chemical decay, the risk of mechanical damage, the potential for mold growth or for metal corrosion.
About the PEM2®
The PEM2 is a temperature and relative humidity data logger designed by IPI specifically for use by museums, libraries, and archives. The PEM2® features an easy USB upload, highly accurate temperature and RH sensors, and comes with a five-point NIST-traceable calibration certificate. It can hold more than 20 years' worth of data and battery life is typically 10 years or longer.

About eClimateNotebook®
Developed by IPI, eClimateNotebook® (eCNB) combines ease of use, powerful analysis, and extensive data management features into one web-based product. eCNB is available at a range of subscription levels from a Free Level for very small institutions, to Basic and Basic Plus for small to medium institutions, and Professional and Professional Plus for medium to large institutions. Higher levels incorporate more institutional users, location datasets, and management functions. Features include access to outdoor weather data, interactive graphs with limit lines, and risk management tools such as IPI's Preservation Metrics™ and statistic tables. At paid levels users can import data from a range of loggers, create reports and more.
Demos are available at: https://www.eclimatenotebook.com
About IPI's Guide to Sustainable Preservation Practices for Managing Storage Environments
Published by IPI in July 2012, this practical manual demystifies climate standards for collections, HVAC systems, and the role of environment in preservation. It outlines the steps you need to take to understand and improve the preservation quality of your storage areas. This guidebook was designed to enable collections care staff in cultural institutions to avoid risk to collections while they support sustainability efforts and pursue opportunities for energy cost reduction. Production of this guide was funded by the National Endowment for the Humanities.